Customer Support 10 AM - 3 PM Mon - Fri
100% Genuine Products

Easy Return Policy

Free Shipping In Canada

On Orders $54.99+
Renew Life Organic Clear Fibre 270g
Organic Clear Fibre is the easy, no fuss way to increase the amount of fibre in your diet by adding...
customer(s) are currently viewing this product
Organic Clear Fibre is the easy, no fuss way to increase the amount of fibre in your diet by adding it to your favourite foods. Organic Clear Fibre uses 100% organic acacia fibre. Acacia is high in soluble fibre, but yields little to no gastrointestinal side effects. Some soluble fibres, such as inulin, can cause gas and bloating.
Features:
Organic Clear Fibre is 100% organic acacia fibre and delivers 9 grams of fibre per serving.

Organic Clear Fibre is a prebiotic fibre that is useful in curbing hunger, lowering cholesterol levels, balancing blood sugar, and easing diarrhea or constipation. 

It mixes easily with most soft foods or liquids.
Directions for Use: Mix two level scoops (10g) into 250ml – 500ml of liquid per day. Take a few hours away from other medications and natural health products. Dissolves best in liquids (use shaker cup).
Ingredients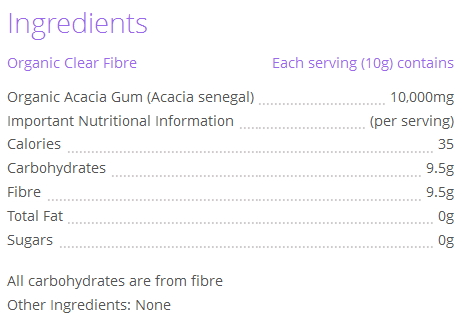 Village Vitamin Store does not provide medical advice. Our Website is intended for informational purposes and product inquiries.
It is not a substitute for professional medical advice, diagnosis or treatment. Never ignore professional medical advice in seeking treatment because of something you have read on the Village Vitamin Store Site. If you think you may have a medical emergency, immediately call your doctor or dial 911.

At Village Vitamin Store, we Always work hard to ensure the accuracy of the product images and information contained on our website. However, some manufacturing changes packaging or ingredients without notice. and, may be pending updates on our website.
We always recommend that you read labels, warnings and directions of all products before use and not rely solely on the information provided by Village Vitamin Store.

Probiotics Disclaimer:
Probiotics are refrigerated in our warehouse to ensure quality and optimal potency.
They are also shipped with a FREE ice pack. Although the product may not be cold when it arrives, the ice pack helps maintain a cooler temperature during transit.