Customer Support 10 AM - 3 PM Mon - Fri
100% Genuine Products

Easy Return Policy

Free Shipping In Canada

On $54.99+ Order
Renew Life FloraBEAR 60 Chewable Tablets
Kids need probiotics too! FloraBEAR, for children aged 4 and up, is an easy and great tasting way to ensure...
customer(s) are currently viewing this product
Kids need probiotics too! FloraBEAR, for children aged 4 and up, is an easy and great tasting way to ensure that your child is receiving these much needed probiotics daily. Probiotics help to support a healthy digestive tract and boost immunity for those young and old.
FloraBEAR is a blend of probiotics (good bacteria) specifically formulated for the intestinal tract and colon of children. FloraBEAR is a chewable tablet with citrus flavour from real orange and tangerine for a taste that children will enjoy. Kids love the fun bear shape!
FloraBEAR is a blend of 4 resident strains of probiotics normally found in children: Bifidobacterium Infantis, Lactobacillus Acidophilus, Bifidobacterium Breve, Bifidobacterium Longum. These 4 probiotics work synergistically to help ensure a healthy microbacterial environment in the intestinal tract.
Features:
1 Billion Active Cultures

4 Strains of Beneficial Bacteria

Helps Support Intestinal and Gastrointestinal Health

Unique chewable tablet

Gluten Free

Non GMO
Dosage: Children (4 years and older): Take 2 tablets daily at least 2 to 3 hours after food. If you are on antibiotics, take at least 2-3 hours before or after.
Ingredients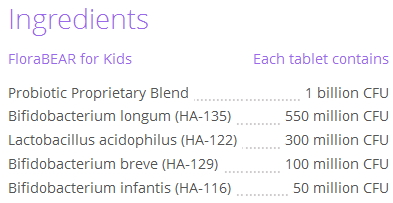 Village Vitamin Store does not provide medical advice. Our Website is intended for informational purposes and product inquiries.
It is not a substitute for professional medical advice, diagnosis or treatment. Never ignore professional medical advice in seeking treatment because of something you have read on the Village Vitamin Store Site. If you think you may have a medical emergency, immediately call your doctor or dial 911.

At Village Vitamin Store, we Always work hard to ensure the accuracy of the product images and information contained on our website. However, some manufacturing changes packaging or ingredients without notice. and, may be pending updates on our website.
We always recommend that you read labels, warnings and directions of all products before use and not rely solely on the information provided by Village Vitamin Store.

Probiotics Disclaimer:
Probiotics are refrigerated in our warehouse to ensure quality and optimal potency.
They are also shipped with a FREE ice pack. Although the product may not be cold when it arrives, the ice pack helps maintain a cooler temperature during transit.