Customer Support 10 AM - 3 PM Mon - Fri
100% Genuine Products

Easy Return Policy

Free Shipping In Canada

On Orders $54.99+
Bob's Red Mill Brown Rice Flour Gluten Free 680G
An absolute staple in gluten free baking, brown rice flour is incredibly versatile. Our Brown Rice Flour is 100% stone...
customer(s) are currently viewing this product
An absolute staple in gluten free baking, brown rice flour is incredibly versatile. Our Brown Rice Flour is 100% stone ground at Bob's Red Mill Natural Foods on a very fine setting to prevent the flour from tasting gritty-a common complaint about many brown rice flours. Brown rice flour is a nutritious alternative to wheat flour and is naturally gluten-free. It is high in protein, iron, fiber and vitamin B. Brown rice flour is rich in manganese, which helps in the proper development of bones and cartilage. It also helps in better absorption of calcium. One serving of brown rice flour supplies more than 20 percent of the recommended amount of magnesium, phosphorus and copper, as well as 11 percent of potassium and more than 100 percent of manganese. In addition, brown rice flour supplies 20 percent of the recommended amount of iron for men and 9 percent for women. Brown rice flour contains healthy bran and will add a darker color to your baked goods. It also imparts a richer, nuttier flavor than wheat flour. You can thicken sauces with it and use it for coating fish and other proteins, as well as produce breads, cakes and noodles. Browse our extensive collection of recipes using brown rice flour for everything from brownies to blini.
Ingredients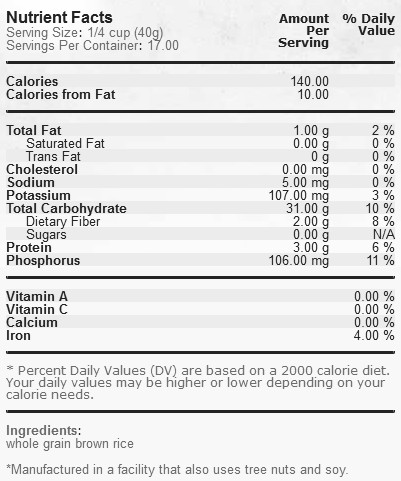 Village Vitamin Store does not provide medical advice. Our Website is intended for informational purposes and product inquiries.
It is not a substitute for professional medical advice, diagnosis or treatment. Never ignore professional medical advice in seeking treatment because of something you have read on the Village Vitamin Store Site. If you think you may have a medical emergency, immediately call your doctor or dial 911.

At Village Vitamin Store, we Always work hard to ensure the accuracy of the product images and information contained on our website. However, some manufacturing changes packaging or ingredients without notice. and, may be pending updates on our website.
We always recommend that you read labels, warnings and directions of all products before use and not rely solely on the information provided by Village Vitamin Store.

Probiotics Disclaimer:
Probiotics are refrigerated in our warehouse to ensure quality and optimal potency.
They are also shipped with a FREE ice pack. Although the product may not be cold when it arrives, the ice pack helps maintain a cooler temperature during transit.