Customer Support 9am-5pm Mon-Fri
100% Genuine Products

Easy Return Policy

Free Shipping In Canada

On $39.99+ Order
Genestra Orti B Vitamin Supplement 180 Vegetable Capsules
customer(s) are currently viewing this product
Genestra Orti B is a vegan friendly vitamin B complex.
Pantothenic acid is used for the formation of the key neurotransmitter acetylcholine in the brain, while niacin, thiamine and biotin help to provide substrates for energy production in the Krebs cycle. Riboflavin is necessary to activate the coenzyme forms of folate and vitamin B6, which are involved in DNA synthesis and the metabolism of amino acids, respectively.
B vitamins help mediate hundreds of enzymatic reactions, including the metabolism of carbohydrates, fats and proteins.

Features:
Helps the body to metabolize carbohydrates, fats and proteins
Helps normal growth and development
Helps in tissue and red blood cell formation
Includes all eight B vitamins (B1, B2, B3, B5, B6, biotin, folate, B12)
Helps to reduce the risk of neural tube defects when taken daily prior to becoming pregnant and during early pregnancy
Also provides inositol and choline Orti B is a vitamin complex that includes all eight B vitamins, plus inositol and choline for the maintenance of good health.
Daily supplementation with 400 mcg of folic acid before or during early pregnancy helps to decrease the risk of neural tube defects by 50%. Folic acid and vitamin B12 also help mediate red blood cell formation.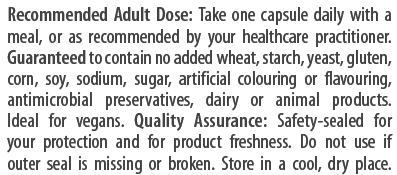 Ingredients