Customer Support 10 AM - 3 PM Mon - Fri
100% Genuine Products

Easy Return Policy

Free Shipping In Canada

On Orders $54.99+
Renew Life Cerebrum With DHA 30 Caps
What if you could boost your brain power by 10%? Cerebrum helps to improve memory, focus and cognitive performance by...
customer(s) are currently viewing this product
What if you could boost your brain power by 10%? Cerebrum helps to improve memory, focus and cognitive performance by 10% for 6 hours after taking it. It is ideal for seniors, professionals, post-secondary students, and anyone wanting to achieve more.
Cerebrum is a revolutionary product that temporarily increases cognitive performance and attention accuracy, as well as improves working memory capacity and speed. Cerebrum contains Cereboost, a specific and unique extract of American Ginseng that has been clinically proven to increase cognitive performance by 10%. Cerebrum also contains the brain boosting essential fatty acid DHA, derived from fish oil.
Features:
Increase cognitive performance

Improve working memory capacity

Increase attention accuracy

Enhance working memory speed

With longer term use the essential fatty acid DHA has been clinically shown to:

Improve brain function

Increase focus and memory retention
Dosage: Adults take 1 capsule per day with food. Swallow whole, do not crush or chew.
Ingredients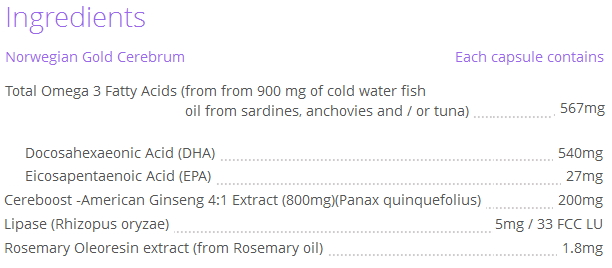 Village Vitamin Store does not provide medical advice. Our Website is intended for informational purposes and product inquiries.
It is not a substitute for professional medical advice, diagnosis or treatment. Never ignore professional medical advice in seeking treatment because of something you have read on the Village Vitamin Store Site. If you think you may have a medical emergency, immediately call your doctor or dial 911.

At Village Vitamin Store, we Always work hard to ensure the accuracy of the product images and information contained on our website. However, some manufacturing changes packaging or ingredients without notice. and, may be pending updates on our website.
We always recommend that you read labels, warnings and directions of all products before use and not rely solely on the information provided by Village Vitamin Store.

Probiotics Disclaimer:
Probiotics are refrigerated in our warehouse to ensure quality and optimal potency.
They are also shipped with a FREE ice pack. Although the product may not be cold when it arrives, the ice pack helps maintain a cooler temperature during transit.